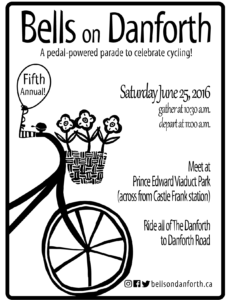 Now in its fifth year, the pedal-powered parade starts at the western end of the Bloor Viaduct and proceeds east along the full length of the Danforth all the way to Danforth Road, where the Crossroads of the Danforth Business Improvement Association (www.crossroadsbia.ca) will host an after-ride party. "We're happy to once again host Bells on Danforth," said Joe Murillo, chair of the Crossroads BIA. "We have always supported safe cycling initiatives and look forward to welcoming cyclists from all over Toronto to the east end of Danforth."Special guests for the ride include Marvin Macaraig of Scarborough Cycles, a project of the Toronto Centre for Active Transportation (www.tcat.ca), who will be celebrating the opening of the new Scarborough bike hubs at AccessPoint on Danforth (www.accessalliance.ca) and the Birchmount Bluffs Neighbourhood Centre
(www.bbnc.ca).
More than 500 riders took part in Bells on Danforth's fourth edition last year, reflecting the increasing
popularity of both recreational and utilitarian cycling. Kathy Chung, another Bells on Danforth organizer, said, "We shop here, we eat here, we work here, and we live here. Bells on Danforth is a celebration of our neighbourhood."
Bells on Danforth is organized by a coalition of cycling advocacy groups in Toronto's east end, including Ward 29 Bikes (www.29bikes.ca), Ward 30 Bikes (ward30bikes.blogspot.ca), Ward 31 Bikes (twitter.com/ward31bikes), 32 Spokes (www.cycleto.ca/ward/32), TO35Cycles (www.to35cycles.ca), and Ward 36 Cyclists (ward36cyclists.blogspot.ca).