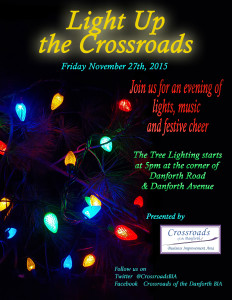 The Crossroads of the Danforth BIA Tree Lighting takes place on Friday November 27th and kicks off the Holiday Season in the Crossroads. Join us for music and festive cheer at the corner of Danforth Road and Danforth Ave as the community gathers for our annual celebration.       5pm at the Swiss Chalet Parking lot.
SEE YOU THERE!
The Crossroads of the Danforth BIA encourages all of our members to decorate their businesses for the Holiday Season and contribute to the festive atmosphere of the area. Our Light Up The Crossroads annual competition will take place during the first two weeks of December. The judged competition will choose the most festive businesses and the will pick best establishment to represent the BIA in its annual holiday ad in the Scarborough Mirror. Be sure to decorate and LIGHT UP THE CROSSROADS.
Check some of the many decorated businesses from last year..